Our History
From 2004 until 2011, we operated as a PremierGarage dealership.
While our emphasis was garage makeovers, we also enhanced basements, sunrooms, patios, poolrooms and workshops. Our commercial projects included restaurants, commercial kitchens, fire stations, kennels, showrooms, food processing, churches, dairies, service bays and more.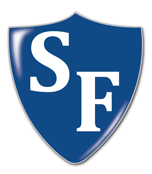 Our name & logo are federally registered trademarks.
Customer Focus
Continuous Improvement
Teamwork
Communication
Belief in our Team
Recognition
Coaching & Support
In 2011, we terminated our relationship with PremierGarage and changed our name. As STRONGHOLD FLOORS, we tightened our focus to concrete floor coatings systems. This change allows our staff to provide additional floor coating systems, increase our concrete restoration capabilities and add more artistic offerings.
Today, STRONGHOLD FLOORS still regularly assists homeowners and homebuilders with garage and basement decorative floor coatings. In addition, we assist commercial and industrial premise owners, tenants and lease/management companies with decorative, protective and specialty floor coatings.
Our service area continues to grow each year through our own efforts and those of our partnerships with professional organizers, homebuilders and lease/management companies. Currently, we service parts of Maryland, Pennsylvania, Virginia and Washington DC.
Greg
TERRITORY ACCOUNT MANAGER
Pennsylvania & Loudoun county, VA
(717) 462-3514
Kevin
TERRITORY ACCOUNT MANAGER
Maryland plus Fairfax, Arlington & Prince William counties, VA
(443) 299-2963
Mike
FOUNDER / MARKETING MGR
Kim
FOUNDER / ACCOUNTING MGR
About our Installers
All STRONGHOLD FLOORS installers are company employees. We do not sub-contract our coatings installations.
Our Builder Partners (A sample of them)
Helpful Articles from Our Blog