Get the look of Terrazzo without breaking the bank!
Most popular and common system for resinous floor coating systems
The gold standard for garage floor coatings
Textures the coatings to provide additional slip resistance
Hides dirt, debris, scuffs and drips
Available in a variety of chip sizes: 1/2", 1/4", 1/8" and our own Hybrid blends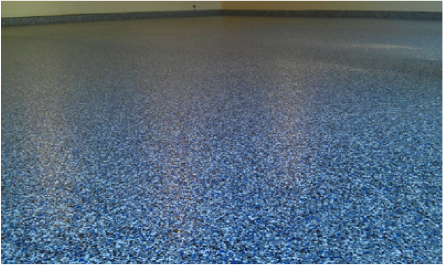 Our Decorative Chip Blends
All installed in 1/4" size for residential garages; our most popular have an "*" by the name
Frequently Asked Questions about Decorative Chip Systems
What protects the chips?
Any of our decorative chip floor coating systems will feature a clear, protective layer. That layer may be UV resistant epoxy or, more often, a UV stable polyaspartic, polyurethane or polyurea.
Our staff will assist you with proper system selection based upon where the system will be installed, how the system will be used and the conditions to what the system will be subjected.
Why is the decorative chip the most common garage floor coating system for residential garages?
A decorative chip floor coating system provides the following advantages over a solid color, metallic epoxy or colored quartz floor coating system:
Hides dirt better due to size of chip vs. the debris laying on the surface
Hides scuffs better due to how the blend's colors break up the look of the surface
Hides changes in the concrete floor's profile better (does not accentuate the slope, waviness or dips)
Provides the greatest number of design possibilities
Blends in with or compliments the interior and exterior colors of most homes
How many layers of chips are used?
Decorative chip floor coating systems are normally done in either a single or dual broadcast. In a single broadcast system, the decorative chips are bonded on top of a colored epoxy or colored polyaspartic. Once the excess chips are removed, a clear, protective top coating is applied. This type of system is typical of residential garages, basements or low traffic commercial usage.
In a dual broadcast system, an additional intermediate layer is applied using a clear epoxy or clear polyaspartic to bind the 2nd layer of chips. This type of floor coating system is more common in commercial or exterior applications.
Is a decorative chip the same as a decorative flake?
Yes, the term chip and flake (and even fleck) are commonly interchanged. Decorative chip or flake is most commonly used in a blend of 3 or more distinct colors. It's very rare for only a single or dual color to be used in a decorative chip floor coating system.