Selecting a Coatings System
STRONGHOLD FLOORS recommends all owners determine what their objectives are and then contact us to discuss which concrete floor coating systems are appropriate. The systems shown in the diagram below are the most common, but others do exist.
While "epoxy" is the term most commonly used, often the correct systems combine epoxy basecoats with polyaspartic, polyurethane or polyurea topcoats. The use and maintenance of the floor will often dictate which chemicals are appropriate. Our staff can assist you with that determination.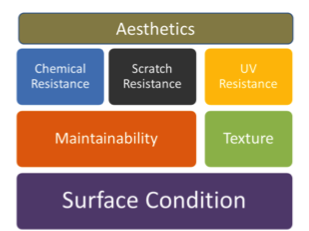 The coating system itself may be composed of numerous layers of chemicals and media. Our systems include:
Electro-static Dissipating (ESD)
Flexible Membrane
See the FAQs below the chart for more information.
Frequently Asked Questions about Floor Coatings
What is a floor coating?
Generally speaking, a floor coating is one or more layers of a polymer coating. The polymer can be epoxy, urethane, polyurea, acrylic, MMA or other formulations. Most floor coatings for residential or commercial will be epoxy, urethane, polyurea or some combination of these.
Floor coatings may be poured and rolled, sprayed or trowel-down. These installation methods are based upon the physical properties and applied thicknesses of the floor coating materials.
Why choose a floor coating instead of carpet, tile or linoleum/sheet goods?
Floor coatings have distinct advantages over carpet, VCT, ceramic tile, hardwood or linoleum/sheet goods. These advantages include:
Not stained by splash spills
No grout to maintain
Greater impact resistance
Ease of cleaning
Lower maintenance
Renewable
How long will the floor coating last?
Longevity of any floor coating system will depend upon a number of factors, such as:
Type of system installed
Type of normal wear and tear
Chemical and UV exposure
Type and frequency of cleaning
The staff of STRONGHOLD FLOORS will assist you with proper floor coating system selection.
Are your coatings the same as the epoxy paint kits sold in paint stores?
Not at all. All of our floor coating systems are commercial/industrial grade materials designed to be applied by professional floor coating companies. Their superior performance is based upon the materials themselves, the proper surface preparation and adherence to installing under proper conditions.
The epoxy paint kits or garage floor paint kits are essentially glorified latex or enamel paints. These paint or epoxy kits lack the bonding strength, UV resistance, chemical resistance, abrasion/impact resistance and overall durability of our coatings.
Ask any co-worker, friend or neighbor who has applied one of the Do-It-Yourself epoxy paint kits how it has held up to the hot tires or daily use. You will quickly learn why homeowners, builders and companies turn to STRONGHOLD FLOORS for their floor coating needs.
Do I need new concrete to use your floor coatings?
No, the concrete can be 1 month or 100 years old. Our floor coating projects have included concrete slabs dating back to the early 1900s.
Softer or porous concrete may require additional coatings layers or a primer. Heavily damaged slabs may require a skim coat or other more involved type of repair.
Our staff will conduct a site survey and design a coating system that is appropriate for the concrete slab.
How long does the concrete have to cure before applying a floor coating?
While the exact amount of time varies based upon concrete mix construction, time of year and curing conditions, the general rule of thumb is 28 days from date of pour.
We can assist with a more definitive answer. It is possible to reduce the curing time by making changes to the concrete mix design.
Can the coatings go over tile mastic or carpet glue?
Some coatings manufacturers or installation companies may say it's possible. Our belief is "Do it right the first time". Why take a chance for a coatings delamination.
Our staff will prepare the concrete floor correctly. That involves removing all mastics and glue prior to installation of the first layer of coatings.
How do I maintain a floor coating system?
For residential floor coatings, most only require periodic dust broom or vacuum and occasional mopping. Mopping may consist of only hot water or hot water coupled with a low/no suds cleaner (such as clear ammonia).
Commercial and industrial uses will vary greatly. Some of our customer follow the same regiment as a residential customer. Some have the need to clean daily with walk-behind or ride-on auto-scrubbers.
STRONGHOLD FLOORS will assist with determining a cleaning/maintenance schedule.